World Indoor Series kicks off with perfect scores and incredible performances with Easton X23's and X10's
The 2020 indoor season is off to a roaring start after the first of six legs of the World Indoor Series.  The first stage in Macau saw an incredible performance from Team Easton.
Last year, the World Archery federation implemented new initiatives that restructured indoor archery worldwide, and created a new world series for indoor competitors that replaces the bi-annual World Indoor Championship with a World Indoor Series Final taking place every year.
The 2020 Indoor Archery World Series is now underway with the completion of the first event on the circuit, the Macau Open.
Team Easton shooters took every gold medal in Macau, with the qualifications led by "Mr. Perfect" Mike Schloesser.  Wielding the new, black and silver anodized Easton X23 arrow shafts, the Dutch archer opened the season with the first and only perfect qualification score at the event of 600/600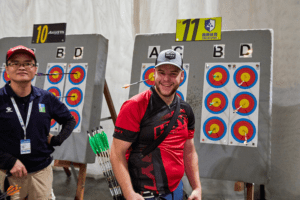 Mike followed up on the incredible qualification performance by posting four more consecutive perfect elimination rounds- the same as another full qualifying round- but after shooting two more perfect ends for 126 consecutive perfect tens, he dropped a point to USA shooter Kris Schaff in the third end of the Gold Medal final, followed by two more, letting Schaff, the reigning Indoor World Series champion, take the win.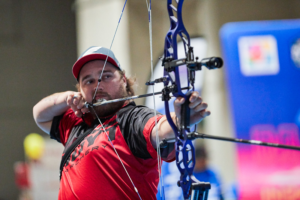 Both Schloesser and Schaff wielded the 2020 model year black and silver Easton X23 shafts for their impressive performances.  USA's Reo Wilde took third, also using X23's.
In women's compound, Philippines shooter Andrea Robles turned in an impressive performance over her distinguished competitors to take her first world indoor series gold medal with her X23's.
All of the recurve winners used Easton shafts as well, with Korean pro archers Ko Dusol and Park Seon Jin taking the men's and women's recurve gold medal titles.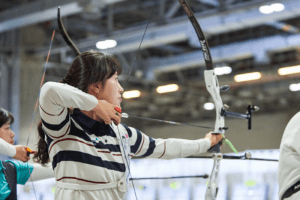 All of the recurve medal podium takers in Macau used Easton's unstoppable X10 arrow shaft.
Next stop in the indoor World Series takes place at the GT Open in Luxembourg, followed by events in Rome,  Sydney,  Nimes, and culminating with the grand finals in Las Vegas on the night of February 8, 2020.
Photo credits: World Archery