Team Easton shooters accomplished another total sweep of every individual medal at the second leg of the World Archery World Cup, this time in Shanghai, China this past weekend.
Sweeping every podium position in both compound and recurve, Easton shooters also set new World Records with the invincible Easton X10.

Korea's LEE Woo Seok and CHOI Misun broke the previous Mixed Team World Record by an astounding four points on their way to the finals.
In men's recurve, Korean powerhouse shooters LEE Woo Seok and Olympic Champion KIM Woojin went hammer-and-tongs in a spectacular gold medal match that saw both shooters launching their X10 arrows with near perfection.  Lee took the gold in the end, and is now ranked #1 in the world.  The USA's Brady Ellison took bronze.
Both individually and as a team the Korean women's team was stunning, with an unprecedented sixth consecutive team win in world cup competition and the gold medal over the host team of the People's Republic of China.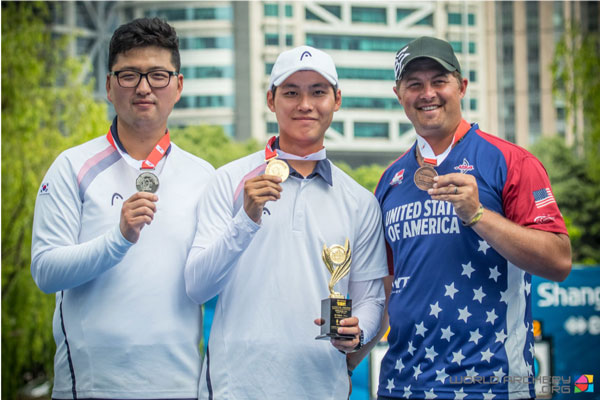 Individually, KANG Chae Young of Korea repeated her winning performance from World Cup stage one this year, this time defeating Japan star Tomomi SUGIMOTO, who in turn took her second consecutive World Cup medal- silver this time, after bronze in Medellin.
Compound action saw World Champion Braden Gellenthein win another Gold Medal, defeating Belgian rookie Brend Fredericx in the finals.  Team Easton's Roberto Hernandez of El Salvador took bronze.

In women's compound action, Korea's SO Chaewon beat the USA's Sophia Strachan, 148-140, in the compound women's gold medal match in Shanghai to secure the first individual victory of her career at a stage of the Hyundai Archery World Cup.  The USA's Alexis Ruiz beat LUO Sha of China in the compound women's bronze medal match.
The third leg of the World Cup, to be held in Antalya Turkey, is next on the international calendar.
Every winner in Shanghai earned a medal with Easton X10's, ProTours, and PROCOMP arrow shafts.  See your Easton dealer today to see why, when it comes to performance and precision, nothing else comes close to Easton.