For nearly 100 years, Easton has been first and foremost, a family company. Doug Easton, Jim Easton and Greg Easton have led the company from its start in 1922 to today. One of their core values has always been to advance archery's legacy by working closely with archers from across the globe.
Over the past century, Easton has been the workplace of choice for hundreds of archers who have all contributed in their own ways to the company legacy.
One of the most extraordinary of these was Larry Belden.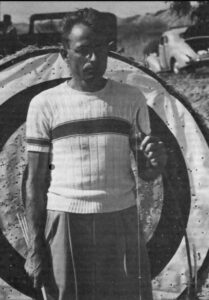 In the 1950's, Doug Easton hired Larry as one of his first full time employees. Larry was an avid archer, who served as president of the NAA (now USA Archery) in the early 50's.  Born in 1913, Larry was a skilled machinist, engineer, and inventor, who worked for the Easton company for 45 years, until his passing in 2007.  Larry joined Easton after careers mining in Alaska, and forestry in the Pacific Northwest, where he became an expert on the finest woods for the bows and arrows of the 1930's.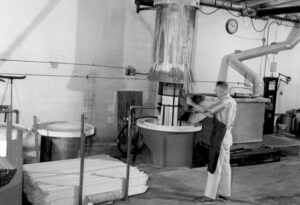 From four-footed cedar arrows to the first barreled A/C arrow shafts, titanium ball bats, carbon rifle barrels, and A/C golf shafts, to jet engine and rocket parts, Larry had a hand in helping Doug, Jim and Greg to develop many of the company's innovations over the years, and push Easton's technological supremacy forward, with his name on several key company patents.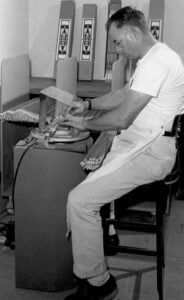 Like Doug, Jim, and Greg, Larry had a hand in every single aspect of building everything Easton produced- and could do every single job in the factory, competently, on demand.
Larry never stopped learning either- well into his 70's and 80's, still working every day, he was developing new design software for arrows and baseball bats, testing new materials for Easton's sporting goods and technical businesses, creating equipment, and mentoring Easton's teams of engineers in California and Utah.
Custom manufacturing equipment designed and built by Larry continues to be used in many Easton processes today.
As we look back at the past century of Easton innovation, we pay tribute to Larry Belden- a true renaissance man.