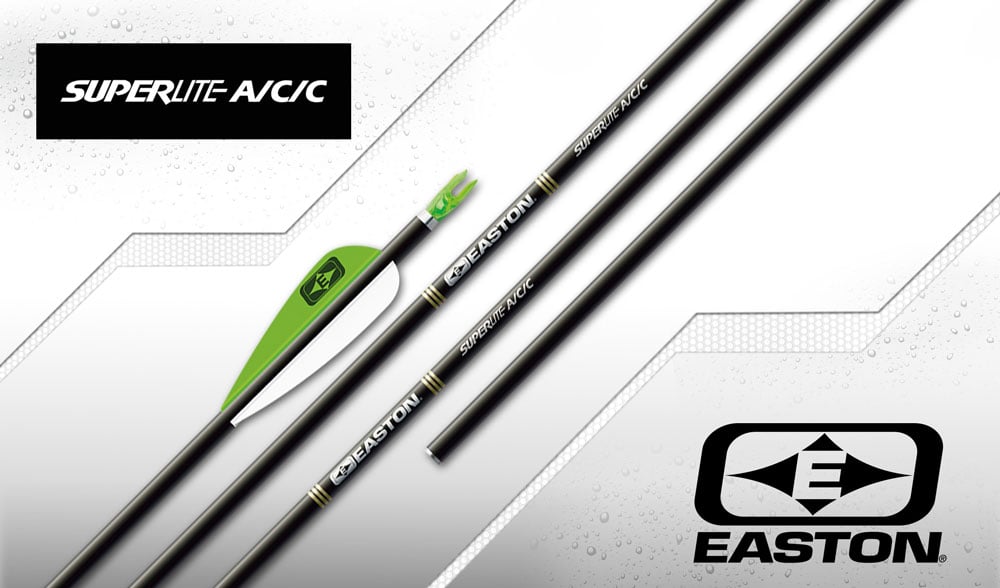 Size
Shaft Weight
GPI
Spine @ 28″ Span
Deflection in inches
Shaft O.D.
Inches
Stock Length
Inches
Point/Insert
2-00
4.7
1.500
.200
28
ACE*
3L-00
5.1
1.300
.204
28.5
ACE*
3-00
5.5
1.150
.208
28.5
ACE*
2L-04
6.1
1.020
.223
29
-04
2-04
6.5
0.920
.228
29.5
-04
3X-04
6.7
0.830
.228
29.5
-04
3L-04
7.0
0.750
.231
30
-04
3-04
7.2
0.680
.231
30
-04
3L-18
7.5
0.620
.242
31
-18
3-18
7.8
0.560
.245
31
-18
3-28
8.1
0.500
.257
31.5
-28
3-39
8.6
0.440
.265
31.5
-39
3-49
8.8
0.390
.276
32
-49
3-60
9.5
0.340
.289
32.5
-60
3-71
9.9
0.300
.301
33
-71
See Product Guide For Component Specs 
1. UNI–Universal Nock Installation System.
2. G Nock available in black, white, green, blue, deep red, orange, red, and comes in .088" and .098" string groove sizes.
*A/C/C -00 sizes use the same size core tube as A/C/E shafts and may use all A/C/E points, inserts, and nocks.
Easton's A/C/C (Aluminum Carbon Competition) has become legendary as the do-it-all arrow for any type of archery.  With sophisticated aluminum-carbon construction, made in sizes to fit every shooter, and with component choices to fulfill any archery mission, A/C/C is truly the "Swiss Army knife of arrows".  Want to win a FITA round with a compound, a 3D event with a barebow, and shoot precision indoor rounds with an Olympic recurve shooting the same arrow?  A/C/C has you covered.  Featuring unprecedented precision, extreme spine consistency and unmatched versatility, A/C/C is the arrow for everything.  Every A/C/C is proudly Made by Easton in the USA.
High-strength carbon fiber bonded to a precision 7075 alloy core tube
Polished carbon finish
Straightness: ± .002"
Weight tolerance: ± 0.5 grains
Components—sold separately
Nock bushing installed (except -00 sizes)
Parallel design
MADE IN USA