During the offseason, we stuff our packs with essential gear for our hunts, make sure everything is up to par and double-check our list of necessities.  While we are often careful to pack survival gear, extra clothing and a few energy bars, sometimes we forget about tools for repairing our bows in the field. Whether you are at 11,000 feet and eight miles deep in the backcountry, or 20 feet up in a tree down the road from your house, there are things you want to be sure to pack so a hunt is not ruined. Here are our recommendations for what to pack in case you need to tweak or repair your bow during a hunt, separated by whether you are a tree stand hunter or pack-in hunter. 
Bow Repair Kit for a Backcountry Bowhunt
When you are living out of a backpack in the wilderness, the weight of your pack is a huge factor of mobility and comfort.  Yet, a broken bowstring or another malfunction of a critical bow accessory can end your hunt. With a little preparation and just a little extra weight in your pack, you can be prepared to fix most issues you may encounter. Consider packing the following: 
Portable Bow Press

Weighing only .75 pounds and made up of a cable and pulleys, the Bowmaster Portable Bow Press doesn't look like much. But it will allow you to replace your bowstring, wheels or cams and install a peep sight in the field. Hopefully you won't need to use it, but if you do, make sure you understand how to use it before you go on your trip. 
Tools
Carry an Allen wrench for every screw on your bow that might need an adjustment. You don't have to carry a complete set, just the ones that fit your limb bolts, rest, sight, sight pins and other accessories mounted on your bow. Also don't forget some bow wax, powered graphite lubricant and a broadhead and nock wrench. 
Spare Parts/Materials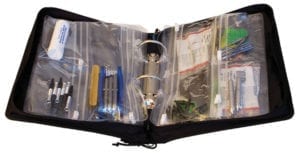 Sight pins

D-Loop material

String/cable

Serving material 

Lighter 

Peep sight

Timing cord for drop away rest

E-clips

An extra release

Judo points (for stump practice or making sure your bow is sighted in after an adjustment is made) 
Extras for a Tree Stand Bowhunt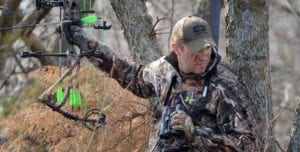 If you are hunting whitetail deer, it's likely you are not far from your truck, cabin, home or a bow shop. You don't need to carry tools for major repairs, but having some extra gear can save you a trip and keep you in the stand. 
An extra release

Batteries for your range finder, lighted nocks or sight light

Broadhead wrench in case your broadheads are loose after the hike into the stand 

Allen wrenches
Hopefully, you will never need this emergency bow kit, but it's better to have it with you and not need it than to need it and not have it with you. Take some time to pack up your tools, spares and bow repair essentials this offseason, in addition to your survival kit. They won't save your life, but they might save the hunt.