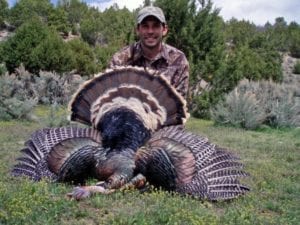 By way of introduction, I work for Easton as their archery Accessory Product Manager. As a Product Manager by profession, I am trained to focus on details. Over the last few years, we have come up with some pretty cool new products; whether it be 4mm FMJ arrows, new quivers, roller bow cases, or cool archery tools, it is the focus on details that I believe helps make those products successful and stand apart from our competition. As an avid archer and bow hunter, I apply that same detail-oriented approach to my bow hunting. In my opinion, it is the small details that often separates the successful hunters from the unsuccessful ones.
I always look forward to hunting the high-country trophy mule deer of Utah's back country. For me, the preparation and the planning are almost as fun as the hunt itself, and as many of you already know, it is those details that often make the difference between a full freezer and eating tag soup come season's end.
This year, I was one of the unlucky hunters who did not draw my Utah deer tag. So, as my plan B, I decided on doing a DIY Public Land Utah elk hunt in an over-the-counter any bull unit. While Utah is known for producing some monster bulls, any bull general season units with over-the counter tags and are heavily hunted and are not considered trophy units. Although some big elk are taken off of these units every year, my goal will be to take a branch antlered bull with my bow.
I decided it would be worthwhile to document the story of this hunt in a series of 6 posts on our blog. The following 5 posts will cover my preseason preparations, my scouting techniques, ultralight hunting techniques, pre-hunt preparations and gear list, and the hunt. For the record, I am just a regular guy and not an accomplished professional hunter nor a hunting celebrity. I have been fortunate enough to associate with some of the best hunters out there though. I love the game and my only motivation here is to pass on some of what I have learned from them to all of you.
Hopefully, something I say will be helpful. I encourage your comments and suggestions so that we can all learn from each other. If nothing else, I hope this blog will help to satisfy all of our hunting thirst as we await the upcoming season.