Unforgiving selection system eliminates well-known veterans
With Japan hosting the next Olympic Games, an unprecedented level of pressure has been applied to the nation's top archery athletes in the effort to select a team to represent the home country in Tokyo later this summer.
A Japanese media blowtorch of attention combined with a higher than ever before achievement level among individual athletes, and a distinctly unforgiving selection process in difficult weather conditions, has created a grueling forge for determining the best candidates for the team.  
The process has eliminated veteran shooters like legendary Bronze and Silver Olympic Medalist Hiroshi Yamamoto, as well as past Olympic Team members and world level performers like 2012 Olympic Team Bronze Medalist and 2016 Olympian Kaori Kawanaka,  and 2008 Olympian, Team Asian Games Bronze medalist,  and World Cup Team Gold Medalist Yuki Hayashi.  As these accomplished shooters  have fallen out of contention, they have left a generally younger, and with a few prominent exceptions, relatively untested, group of shooters, contending for the team.
The most prominent exceptions are veteran 4-time Olympian Takaharu Furukawa, the 2012 Individual Olympic Gold Medalist, 2012 London Olympian Hideki Kikuchi, and Ren Hayakawa, a 2012 Olympic Team Bronze medalist and the third member of the Asian Championship bronze medal team with Hayashi and Kawanaka.
These shooters advanced through the latest selection event, which consisted of a total of 4 x 70 meter ranking rounds over two days.  
Unlike most WA member associations in this Olympic cycle, Japan is not using match play as any part of their selection process.  This means every single arrow counts a great deal throughout the process, and there is no margin to make up for an error through set play.
Heavy wind conditions- with gusts in excess of 12 m/s (27 miles/hour)- led to some upsets and difficult situations for some of the veterans.  The most prominent example is the elimination of the highly decorated Tomomi Sugimoto from the ranks of the women's contenders.  
Sugimoto, a gold team medalist from the 2016 World Indoor Championship, and half of Japan's Gold Medal winning mixed team from the Antalya World Cup in 2018, was the number-one ranked shooter in Japan going into the weekend's selection event.  But the strong wind and a couple of errant shots on the first day dropped her from contention.
Even veteran Furukawa found himself on the edge of elimination after suffering a miss in heavy wind during a round on the first day- dropping all the way to the cut line.  However, on the second day, in similar conditions, Furukawa outscored the rest of the field with 10 point margins to surge into first place in the selection.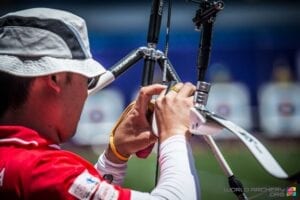 Japan will stage one more final elimination event in April, selecting the final team, plus one alternate.
Every Japanese Olympic contender wields the legendary Easton X10 arrow shaft.
Finalists
Women:  
Ren Hayakawa 
Miki Nakamura
Utano Agu
Azusa Yamauchi
Tomoka Ohashi
Men:
Takaharu Furukawa
Hiroki Muto
Hideki Kikuchi
Junya Nakanishi
Yuki Kawata
Photo credits:  Yoshi Komatsu, Japan Archery Magazine