by George Tekmitchov
On a hot July day later this year, three men will stand on the podium at the Tokyo Games and have a gold , silver, or bronze medal placed around their necks.
One of the people working hard to be among the final 64 men hoping to stand on that top podium step is 2012 Olympic Silver Medalist Takaharu Furukawa.  Furukawa, a 35-year old Osaka resident and four-time Olympian, has gained widespread fame in Japan and throughout the archery world, and as the games loom ever closer, he is dealing with a media spotlight quite possibly stronger than ever before seen by any archer- with Japan's media blowtorch.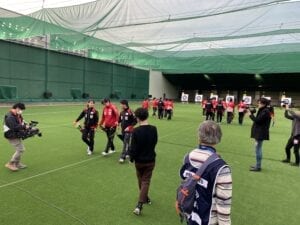 He has been an Easton shooter throughout his career for the past 20 years, rising from the Japanese high school archery system to attend Kindai University, one of the premiere universities in Japan with a high level archery program, and one which has produced champion archers for several generations now.  
His Olympic debut came at the 2004 Athens Olympic Games, where he made it through the first elimination round and was then defeated by Korea's Chang Young-ho, who went on to help his team take the gold medal in Athens.  
Beijing saw him sustain a first round defeat in a close shootoff.  
London was his Olympic breakthrough, where he defeated top archers from Ukraine and Netherlands on his way to the podium and his silver medal against champion Oh, Jin Hyek of Korea.
The Rio Games saw another strong run, with Furukawa vanquishing three successive opponents before running into defeat at the hands of Brady Ellison in the quarterfinal.  Ellison went on to win the individual bronze medal.
Furukawa has medaled at World Cup events 19 times both individually and as a member of the Japan team, was the individual bronze medalist in the 2015 World championships, and has medaled in numerous continental events.
Married in December of 2018, Furukawa is a part of the coaching staff at Kindai, a position which allows him time to train, while helping the next generation of Japan's archery athletes with their development.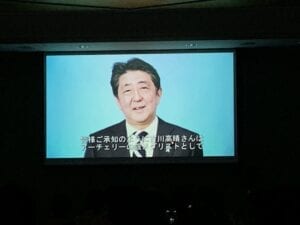 We spoke with him at the Japan Indoor Open in Osaka, where he finished in first place.
Q.  What do you see as the biggest challenge for competing in the Tokyo Games?
A.   The most important thing will be the heat.  Tokyo in summer is very hot, so I think we have to prepare for the heat.
Q.  Besides the physical heat, of course, there is the extreme level of attention the team will face from the domestic media in Japan.  You are used to that, no doubt, but how much of a factor will it be?
A.   This year there has been more media attention than even after the medal in London.  It's because of all the excitement about the games here in Japan.
Q.  Is it hard to balance your shooting time with your work at Kindai University?
A.   Now, I am allowed to train full time.  I can focus on my training, so there's no problem and I don't worry about that.
Q.  What does your normal training day look like, in terms of activity?
A.   I shoot 400  arrow per day, six days per week.  Two sessions of weight training per week.  One day off to rest.  Every day has the same volume.  At this time of year I shoot from inside a building to the targets 70 meters away.  All my training is at 70 meters.
Q.  Tell us about your equipment.
A.   I am using a new sight from Shibuya, "Ultima Pro".  It is very light weight, a really good sight  and it has very low vibration.  I really like it.  My bow is a Win and Win AXT, aluminum riser with NS Graphene limbs.  I shoot the Easton X10 380, with a 120 grain Easton tungsten point.  I'm using Spin Wings.  I tried so many vanes, but they don't work for me as well as the Spin Wings.  I use Easton Contour CS Stabilizers, which are very light and help with wind.  I really love the Contour stabilizers!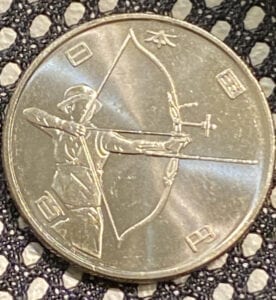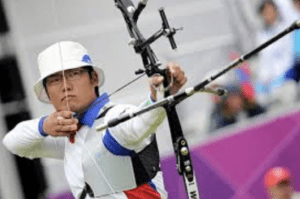 Q.  What else do you need to work on between now and July?
A.   Before the Olympics, I have to pass two more selection events.  We will shoot several rounds of 72 arrows.  This year is the most important year of my life, but if I think of the Olympics as such a special event, I will feel nervous.  So my attitude must be that it is just an ordinary competition.  
Q.  One could argue that a World Championship is actually more difficult in some ways
A.  Exactly, there are only 64 competitors in an Olympic event.
Q.  One of the exciting things is that for the first time, there's a mixed team event at the Games.  And you have a pretty good track record with that.
A. Yes, (Tomomi) Sugimoto and I won the gold medal at the Asian Games.  I was so happy we got that medal.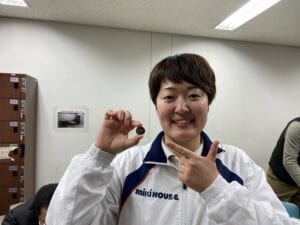 With two more selection events before the Olympic team is named, and 8 contenders still in the running, the training- and pressure- is non stop for all of Japan's top shooters hoping to represent the home country for the Olympic Games.  One thing that every one of them has in common- the Easton X10, the choice of every individual Olympic medalist since 1996.