With another complete Gold Medal sweep Team Easton shooters have continued to set the stndard for performance on the 2014 Archery World Cup circuit.  The just-completed event in Medellin, Colombia shows continuing domination of Easton's legendary X10 arrows in both compound and recurve competition.
Korea earned the lion's share of the recurve medals taking five of the six individual recurve medals- Every Korean shooter uses Easton X10 shafts.
Easton chairman Greg Easton said "It was incredible to see the boost that the World Cup has brought to the highest levels of competition.   While it was gratifying to see our arrows win every event here, I was even more impressed with the tremendous skill, determination, and effort that these shooters have exhibited in the pressure of competition.  We are proud to have them rely on Easton technology to help them perform at their best level".
JUNG Dasomi, of Korea beat Germany's Lisa UNRUH in straight sets to win the recurve women's gold medal.  Lisa's silver medal performance followed up the Gold Medal won at the first stage of the World Cup by her teammate, Elena RICHTER, showing that Germany is off to a strong start in the women's ranks this season.
With JOO Hyun Jung's bronze, and the Korean men's sweep of the recurve medals- LEE Senguan, OH Jin Hyuk and KIM Woojin going 1-2-3 – it was five out of six individual recurve medals for the Korean team at Medellin 2014.
But in the women's recurve team event the big news was the German recurve women, taking their first gold medal in three years as a team and leaving Lisa UNRUH, Katrina WINTER and Shanghai individual gold medallist Elena RICHTER grinning.
"It's fantastic to beat China as they won in Shanghai," said Lisa UNRUH. "We shot badly at the beginning of the match, but improved towards the middle and finished strong!"
"China was shooting some bad points and we thought: it's our chance."
Germany proceeded to drill five arrows into the 10, with only one lingering out in the nine, in a single set.
It gave the trio a valuable two-set point lead heading into the fourth and final regulation six arrows. They drew with China in the last set – and that was all Germany needed.
On the compound events, it was another Easton gold sweep.
In the women's compound event Team Easton's Erika JONES (USA) took the gold with a decisive eight-point win.
In men's compound, it was a great performance by a shooter who arrived in Colombia more or less on his own- with no team support.  "I have waited eight years to win a World Cup stage…" said Easton's Peter ELZINGA, World Record Holder from The Netherlands.  "To finally get it – it's really special to me. I've come second a couple of times, but to win. Finally."
Four nines over the first six arrows of the compound men's gold medal match put Colombia's Daniel MUNOZ in a hole, when ELZINGA only dropped one. It was an admirable start at Daniel's first ever finals.
The next stage of the world cup gets underway in Antalya Turkey on June 9th, and once again Team Easton will be there to bring you the details, both here and live on our Twitter feed.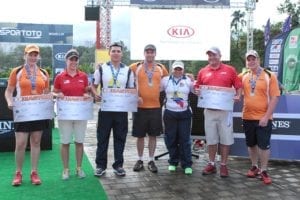 Winners display their Easton contingency awards for the event-  Inge van Caspel, Erika Jones, Daniel Munoz, Ruben Blyendaal, Alejandra Usquiano, Reo Wilde, Mike Schloesser
Peter Elzinga, Men's champion
KOR Men's team
Team Korea with Greg Easton
Team gold medalists Karina Winter, Lisa Unruh and Elena Richter of Germany with Greg Easton