6MM Autumn Orange FMJ – Limited Edition – Discontinued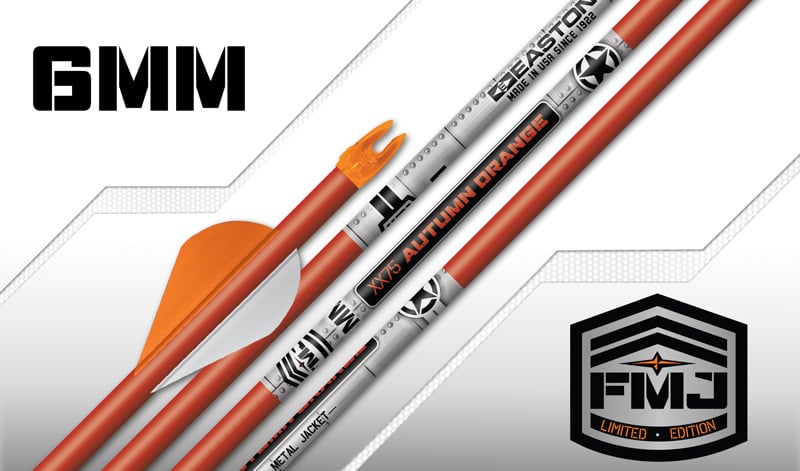 Size
Shaft Weight
GPI
Spine @ 28″ Span
Deflection in inches
Stock Length
Inches
RPS Point
O.D. Inches
Broadhead Adapter Ring (5 grains)
O.D.
Inches
ST Insert
Size
470
8.8
0.470
31
9/32
BAR 6
0.277
#2
390
9.7
0.390
31.5
9/32
BAR 7
0.281
#2
320
10.6
0.320
32
9/32
BAR 7
0.287
#2
Easton FMJ 6MM – Autumn Orange Retro Limited Edition
NEW—for a limited time get the awesome retro look of the classic Easton XX75 Autumn Orange in the state-of-the-art FULL METAL JACKET arrow.
Reduced-diameter 6MM Full Metal Jacket arrows offer maximum penetration for bowhunting. 7075 aerospace aluminum adds kinetic energy and provides a high level of precision for superior broadhead accuracy. The aluminum jacket makes pulling shafts from targets easier than carbon-surfaced arrows.
Lower friction and aluminum/carbon composition combine for pass-through impacts and easier to follow blood trails on the world's toughest big game.
Reduced 6MM (H) diameter thick-wall carbon-fiber core with 7075 aluminum metal jacket
Provides superior kinetic energy, deeper penetration, and more durability
Factory straight, weight & spine matched
Includes 6MM (H) ST RPS 8-32 insert and pre-installed 6MM (H) nocks
Straightness ±.003
• 6MM reduced-diameter carbon core with 7075 alloy metal jacket
• Pre-installed 6MM (H) nocks
• 6MM (H) ST RPS 8-32 inserts
• Easy target pull
• Straightness: ±.003"