Bowhunting Axis and Whitetail Deer in Texas
By Sarah Laughter from Easton Archery
I have only ever held a tag for myself in my home state of Utah, Although I regularly entertain the idea of hunting out of state, nothing ever seemed to line up.
One topic that dominates most of my professional and personal conversations is hunting, specifically bowhunting. While working an event for Sitka Gear back in July, I made many new connections and immediately formed family-like relationships. One being Jeff Helm, who was also working the event for Sitka. During our hunting discussions, he extended an offer to come to Texas and hunt Whitetail. In true Sarah fashion, (that being 90% of my decisions being made on impulse), I said "Yep! Sounds great! When can I come?"
My recent week in Texas was definitely a week of firsts for me and I found myself completely out of my element. I had hunted from a tree stand once before in my life, and when I say "hunted" I mean, after sitting still and quiet for an hour, using my harness to support my weight and leaning forward to swing side to side until the sun disappeared and I was allowed to get down from my stand. Now I was going to spend a week trying to shoot a Deer from one!
Friday, my second day in Texas, I did just that! I had harvested my first Whitetail buck, out of state, from a tree stand, with my bow! I sent the 'Buck Down' text and Jeff was in route. When we recovered my buck, as always, I was overwhelmed with emotion walking up on a life I had just taken. This time was a little different. My family (best hunting buds ever) were 1,300 miles away. Another first. My whole big game hunting career, my dad, mom, sister, or all 3 had been by my side on every successful hunt. I sent the fam a video, sent up a quick thank you and joined my new found Texas family (Jeff, Crissy, Cody, Brittany, Kylee, and Duke) to celebrate and take care of the meat.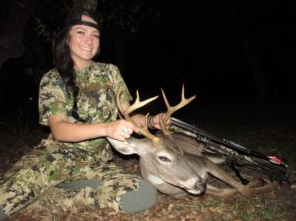 It being Texas and all, I wasn't done hunting. It rained on and off during my trip and all the vegetation was still so green. Animals weren't moving for anything! I went 3 or 4 sits in a row, in different locations, where I didn't even see a Deer. Regardless, without fail, I was in a stand or blind morning and night hoping to get another opportunity.
Everything I thought I knew about Axis Deer, which was next to nothing, had lead me to believe the closest I would ever get to hunting one was in my dreams. I had zero idea I would even get to see one on my trip. Tuesday evening, after dodging Boone and Crockett sized Daddy Long Leg Spiders raining from the roof of my blind, the dry spell was over when a couple of Whitetail doe's and a couple of spikes graced us with their presence. With about 5 minutes of shooting light left, a small group of Axis doe's showed up and stayed just outside of bow range. Cody and I backed out in full stealth mode with no flashlight in hopes of them returning in the morning and me having an opportunity at an Axis doe.
The next morning called for a massive rainstorm that was expected to start early morning and last most of the day. Cody suggested we try and hunt for as long as the storm would allow us. Alright, I'm game! We got to the blind with plenty of time to take a quick blind snooze before a couple of Whitetail doe's and another spike showed up. We watched them and the brewing storm while I debated taking a doe to cushion my freezer. Almost simultaneously as my internal debate, Cody says "big Axis buck!" Almost immediately, my face was hot, my heart was racing, and I was at full draw. Cody whispered "24 yards." I asked "now?" and he said "smoke him" I shot and heard the thunk that no bowhunter can forget once they've heard it. He made it 60 yards and was down in sight. I was still in complete disbelief as Cody was celebrating and shaking me. I danced a seated dance and called my #1 speed dial, mom, to tell her what had just happened. Before laying my hands on him, I called my dad and my sister to share the news with them too. My old, mature buck was blind in one eye and covered in scars around his face and neck from battle and he was perfect. I sent up another thank you, posed for a few grip and grins and was headed home with my trophy. Again, I celebrated with my Texas family as we processed what I hear is arguably the best meat on the planet.
I'm home now and have spent a lot of time reflecting and looking back through my photos from my trip. I am incredibly grateful for Jeff and the Wells family for taking me into their home and giving me the opportunity to hunt with them and getting to harvest two beautiful free-range bucks.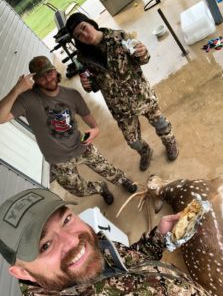 Also, I wanted to say a special thanks to E.J. Varos for allowing me to spend my last day in Texas visiting BSR Ranch and furthering my experience by whipping up some mean Axis, Nilgai, and Wild Hog tacos and walking past arrowheads so that I would have a chance at finding one.
Again, Thanks fam!
Bow: Hoyt Carbon Defiant 31"  at 54lbs.
Arrow: Easton Carbon Injexion 480
Broadhead: SEVR 100gr.
Total Arrow Wright: 350gr