Youth Hunter Education Challenge (YHEC)
My Son Griffin is a very passionate hunter and shooter. He is also a skilled marksman and outdoorsman, way beyond his 17 years. His abilities are much more than what I could teach him. You could ask about how he learned these skills but don't have to look any further than the last few years we spent involved in the Youth Hunter Education Challenge (YHEC). This program was started by the NRA over 30 years ago. Over a million young shooters have participated in this amazing program
"YHEC" consists of 8 different events. 4 shooting and 4 knowledge events. These young shooters try their skills with a rifle, shotgun, muzzleloader and a bow. Then they take an extensive written test, Identify up to 30 different animals by tracks, feathers and hides. Then they test their safety and ethics in a situational awareness trail called Safety trail and finally complete a map and compass course.
YHEC is completely parent driven locally. Moms and Dads step up to help teach and encourage their children to practice and study to prepare for the next challenge. The next challenge just happens to be the International Youth Hunter Education Challenge being held July 23-27 in Mansfield Pennsylvania. Some of our finest young sportspersons from all over our country will be trying their abilities against their new friends. https://yhec.nra.org/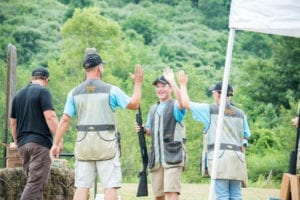 YHEC has a few corporate sponsors and Easton/Beman is a favorite. Their Marketing manager Tyson Yates comes to the events to meet and encourage the kids. You cannot imagine how much this means to these guys. They feel validated and important and that their greatest fantasy of being a pro shooter just might be more reachable than they thought. My boys practice much more focused when they know Tyson will be there.
Not only has Griffin developed amazing outdoor skills through YHEC he has made lifetime friendships with some very good kids are as passionate as he.
YHEC has also given Griffin the desire to shoot archery competitively in other venues like local 3-D shoots and The Summer Games Archery event.
Young shooters are encouraged to find their local and regional teams who will prepare them for the State level event.